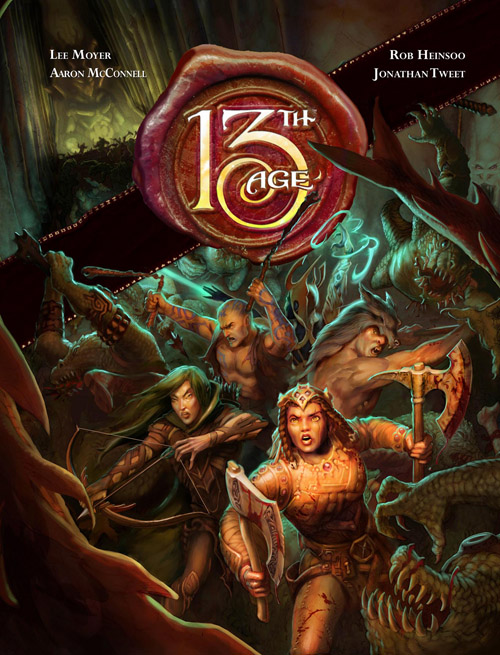 Describing itself as a "love letter to D&D", 13th Age has quite the pedigree behind it. 13th Age is designed by two accomplished and notable game designers, Jonathan Tweet (Everway, multiple editions of D&D, much more) and Rob Heinsoo (Feng Shui, D&D 4e, much more), and is published by Pelgrane Press, whose design on their GUMSHOE and other lines show that their production values are top notch and often eclipse products put out by bigger companies.
When I started to see some press about 13th Age, I was intrigued but also worried. While I love the creative forces behind it, it's a very tough sell to me for any kind of D&D-esque gaming right now. "D&D Next" is obviously commanding a lot of attention in that space right now, with excellent alternatives like Dungeon World floating around, along with the simple fact that fantasy adventure gaming is the most overcrowded market there is in RPGs. Would 13th Age have enough to distinguish itself? Even if they designed a game that hit all my sensibilities in that genre, would that be enough to compel me to add another game of the same genre to my shelf?
The answer for me was to get it to the table and try it out. My friend Josh had played a session at Camp Nerdly and so was willing to run a session. We got a group together and tried it out. As I was only a player in a one-shot session with pregenerated characters (in playtest form, no less) I can't give a complete picture of the game: I didn't run the game, nor did I create my own character. However, enough seemed to come through to give me a lot of the answers I was looking for. If you're looking for an indepth review, this isn't going to be it.
So first, the basics: the game is loosely built on the venerable d20 system chassis, which is to say, most tasks are accomplished by rolling a d20 and adding a number and comparing it to another number. The characters take a few cues, mainly in organization. For example, you have an AC, a physical defense, and a mental defense which are static numbers. Your abilities (and in some cases, attacks that flat out resemble 4e powers) roll vs. those defenses to try and work. Some of these abilities are restricted to at-will, once per battle, etc. though many feature a mechanic by which you can recover them after using or between battles.
One big step towards a specific kind of D&D in 13th Age is a character's "unique thing." Our set of pregenerated characters featured everything from a sentient gargoyle to a cursed-to-be-immortal gnome bard to my elven ranger who was a polymorphed falcon. This being core solidly takes it in the direction of D&D as a set of Heroes with all interesting stories (which is my default way of playing) and away from the idea of characters who start out mostly being defined by their race and class and earn their heroic natures later (assuming they survive long enough.) Both styles have history in D&D, but 13th Age solidly veers towards the former.
These "unique things" inform some of your mechanical options as well. Characters have several skills of varying bonuses, but instead of being a set list of skills, are related to your unique thing and how your background helps you in certain situations. To quote from the pregens, my elven ranger had "Former Bird +5," "Charmingly Unaware of Social Conventions +3," and "Amateur +2." So any situation where I'd make a skill check, if I could justify one of those bonuses, I would add it to my skill roll. So any scouting I was doing I could add my Former Bird bonus, whereas trying to repeat some magic words for a ritual I rolled with Amateur as my bonus (my character dated a parrot in college.) The approach reminds me of games like Risus and Tweet's own Over the Edge, where character concepting becomes a lot more important than figuring out where to assign points.
Additionally, your "unique thing" informs which Icons your character has a connection to. Icons (as previewed in various forms on Pelgrane's website) are the embodiment of fantasy trope archetypes, and to me is a large part of the "love letter to D&D" aspect of the game. Icons such as the High Druid or the Lich King stand as powerful figures in the default world (though I understand customizable to your heart's content for your own world) fill in pieces of the campaign just by their name alone without being overbearing. The fact that you can just assume that there's an Elven Queen prevents there from being a lot of buy-in to get playing quickly. Your character also has attachments to them (for good, bad, or conflicted) which automatically hooks your character into the larger world, while providing another resource to draw on during play that could lead to more stories. Yes, you can call on your relationship to the Diabolist for some needed information, but what price will you pay later?
Aside from character options, there's a few core rules that also stood out as well. There's an "Escalation Die" that comes into play during combat which gives a bonus to the heroes' actions as the rounds in combat pass, making attacks more and more likely to hit and thus keeping play accelerating. This aims directly at controlling combat length, while providing some extra hooks for the rest of the system to work around: being ready for combat can let you start with a higher Escalation Die rating, while some monsters might have abilities that trigger based on the die rating. The other piece that stood out was the assumptions that skill checks "fall forward" meaning that no skill roll just leads to a dead end: like we've discussed here with articles on Mouseburning, skill checks generally go from "interesting failure" to "success with complications" to "success." Lack of this kind of rule is consistently a pet peeve of mine in all editions of D&D, and I was glad it was given front and center attention in this game.
Some things I wasn't so positive on, and largely, they come from sticking a little too close to the D&D mold. Spell casters once again seem like the thing to play if you like making interesting decisions. Non-combat abilities seemed to entirely reside in the background skills and your connection to the Icons, though this may have been because of playing 1st level characters. While most attacks did a minimal amount of damage on a miss still, it never really took the sting out of strings of bad dice rolls. I also really missed having some kind of resource to spend to do better in a round or guarantee my cool thing worked: unless we just missed it, there were no Action Points/Plot Points/Bennies which means you're at the whim of the dice to pull everything off. Certainly that's a more recent addition to D&D, but it's something that would fit well with the rest of the mechanics. For a game that says it "respects old school values" it certainly seems to have more in common with newer games: I couldn't see running anything resembling what I would consider an "old school" game in it. One player in our test described 13th Age as like a Pathfinder for D&D 4th edition, an analogy that has some legs.
Overall, there is plenty that I liked about 13th Age. Mechanics like the Escalation Die are both so simple and yet so impactful that I immediately want to steal it. Playing with characters that had "unique things" baked in made jumping into the character immediately more interesting to me, especially in a one-shot, than simply being told I was an elven ranger. The Icons are a fun way to codify and play off of those personalities that seem to exist in every gaming world. 13th Age definitely has both that feeling of being familiar while also incorporating new ideas.
Ultimately, that ends up being the problem for me: there's lots that I would steal from other games, but not enough to make it my primary game. Stuff like the Escalation Die I could see using as-is in any version of D&D I care to play. I've already used various relationship mechanics in D&D, which I could easily replace with the Icons. The skill system is such that I could remove any existing skill system and replace it with the 13th Age version, and just ignore the suggested skills in whatever game I play.
At that point, of course, maybe I'm making my own version of D&D, just like 13th Age is. (And I certainly don't shy away from it.) That's just my ultimate take-away: I'm much more impressed by the pieces of 13th Age than the game as a whole. If your tastes are anything like mine, you might feel similarly. Or you might just be turned off by what you've already read. Regardless, it's tough for me to consider 13th Age as the game I'd want to run long term. It is, however, the game I want to buy and steal from.
13th Age is available for pre-order now.